<![if !vml]>

<![endif]>

Happy 103rd birthday, Wolf!
In honor of Wolf's birthday, we've posted a new video by New York City friend and fellow Wolf fan Tom
á

s Doncker. Besides being a great musician, Tom

á

s is the musical director for the N.Y.C. SummerStage Premiere of Mando Alvarado's "Diablo Love," which uses songs made famous by Howlin' Wolf.
Note: This play contains strong language and music!
If you're in N.Y.C. this summer, it's the play to see!
Tom
á

s and his band have just released an EP in honor of the Wolf, featuring four classic Wolf tunes plus one written by Tom

á

s and Pulitzer prize winning poet Yusef Komunyakaa and one written by Tom

á

s and his stellar harp player, David Barnes. All of these songs are featured in "Diablo Love." Here are Tom

á

s and his band in action performing the immortal Howlin' Wolf and Willie Dixon tune "Spoonful":

Read "Moanin' at Midnight" —
the first and only biography of the great Howlin' Wolf —
a Blues Hall of Fame inductee
as "a classic of blues literature"!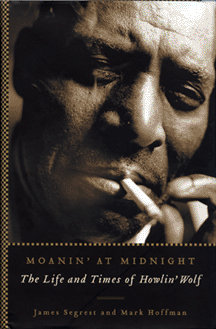 "Answers almost every who, what, and why about the blues giant."
- National Public Radio
"An insightful—and long overdue—look at an utterly unique and influential performer."
- The Houston Chronicle
"A superb biography of the bluesman Sam Phillips thought could have changed rock 'n' roll history."
- Mojo magazine




More than 35 years ago, Howlin' Wolf predicted the first black President:
"You know, they called us 'coons'—said we didn't have no sense.
You gonna wake up one morning, and a coon's gonna be the President."
—"Coon on the Moon" from The Back Door Wolf, recorded in 1973

We're always looking for unpublished photos, unseen or unheard film, video, and sound clips, and first-person stories of and about Howlin' Wolf! If you have any of these or know someone else who does, please contact Mark Hoffman. Thanks!